Skyve Foundry is an online build and customer success environment for creating and managing browser-based apps.
Anyone can create a Foundry app in minutes, there's no coding and apps are created using easy point and click tools.
Foundry is a fantastic place for ordinary people to create extra-ordinary solutions - taking advantage of mobile accessibility and a range of rich in-built features - to try out ideas, solve every day problems, and offer smart and savvy solutions for their clients.
We offer a free trial and purchase options for full support.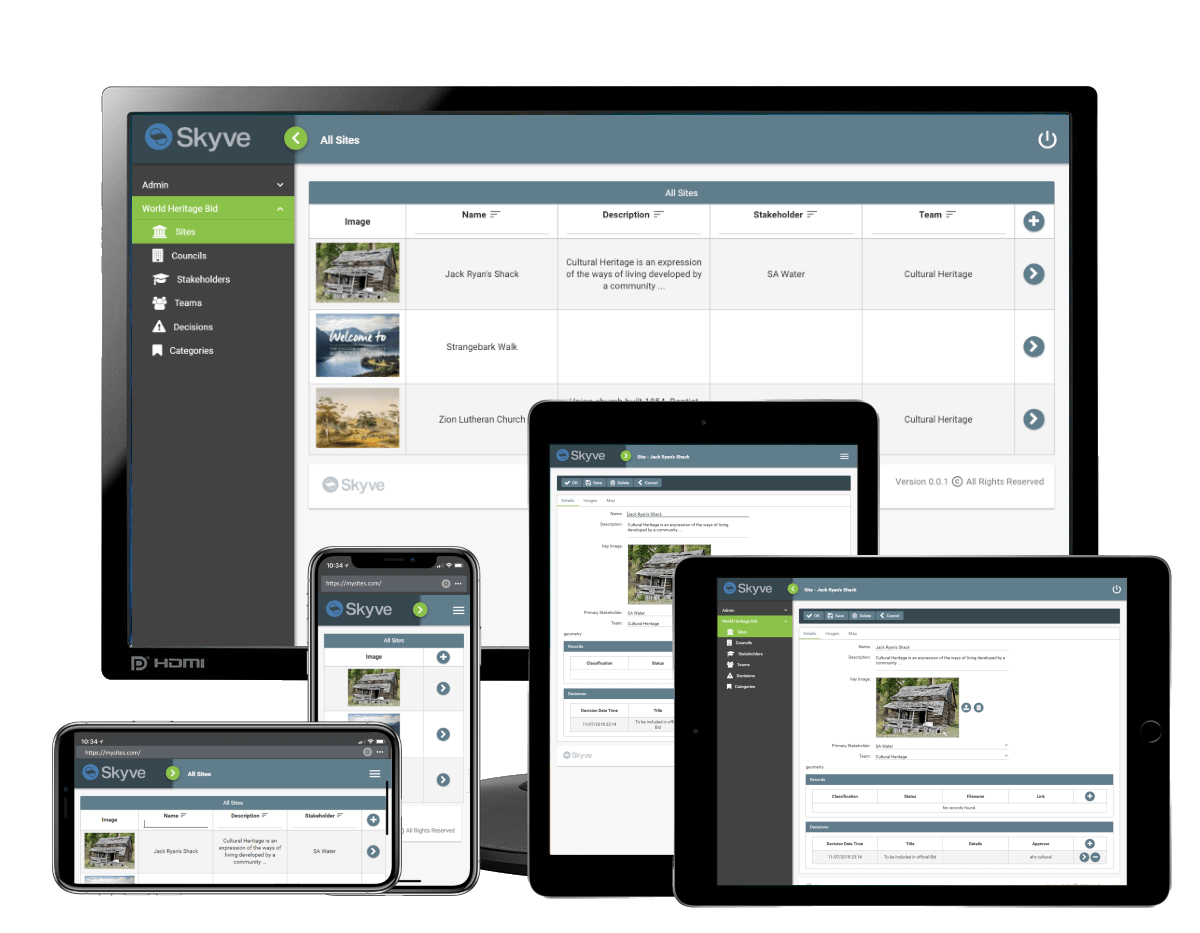 Once you've created and deployed your first app from Foundry, it's immediately available online.
Foundry apps support all modern browsers and employ responsive techniques to render appropriately on mobile devices like tablets and smart phones.
To get others using your app, there are a number of inbuilt features including quickfire user invitation, and data import tools.
There's no specific limit to the number of users you can add, but if you're planning on having large numbers of users, you'll need to purchase a dedicated host.
We can also configure Foundry to use your preferred hosting provider - or your internal cloud (see below). Talk to us to find out more.
Yes! Foundry can be deployed on private cloud infrastructure and integrated with your existing security architecture - giving your enterprise total control.
We offer a unique customer success package - including tailored onsite on-boarding and update training, self-help resources, support and expert advice, brining a start-up innovation culture to your organisation to drive your ongoing digital transformation.
Talk to us to find out more.
There's no specific limit to the number apps you can build, but our charging is based on how many apps you want to be able to deploy.
During a free trial, apps are automatically undeployed after an hour (don't worry, nothing will be deleted, you can redeploy straight away if required).
If you require multiple apps to be deployed simultaneously, you can buy additional deployments at any time.
We built Skyve Foundry to empower you - the "citizen developer" - to foster a start-up culture within your enterprise.
Foundry gives you the power to innovate, improve your internal processes and deliver high quality apps for your clients.
We stand ready to assist - to extend your apps into full blown enterprise scale systems, or to advise and assist where you need.
Alternatively, your apps can be downloaded as Skyve Java projects for your own IT group to build on and extend at any time. You can also download a backup of your data and content (attachments and images) for your transition.
A citizen developer is anyone who wants to innovate, improve and enhance their own situation, whether or not they have any skills or training in software development.
Every Foundry app has a set of Rest service endpoints created for external systems to be able to interact securely.
Foundry apps can also consume other services, but you'll need our help to set this up.
Talk to us to find out more.
No-code/low-code is a movement in the software industry. It's name indicates the nature of the change - "low-code" - software created with less programming code than the traditional approach.
Low-code is an alternative to configurable off-the-shelf solutions - which offer options within a tightly controlled capability. For example, with an off-the-shelf accounting package, you might be able to select from a range of taxation types. But if you're in a jurisdiction not covered by that package, or if your tax laws change, you'd have to invent workarounds.
Because these off-the-shelf packages are designed to satisfy a market segment generally, they can often restrict innovation and also tend to bind the customer to regular updates to try to keep up with general market changes.
Instead, low-code and no-code platforms offer the potential of applications designed specifically for you (and potentially by you), without the cost and complexity normally associated with software development based in thousands of lines of programming code.
If you have any questions about these questions, or have a question not covered above, please contact us.